I studied Travel and tourism at college, during the two years I spent studying I built up a long list of places I want to visit. I've listed my top 28, putting them in to categor
ies of continents.
NORTH AMERICA
1. Fingers lakes, New York:
When I think of New York I think of big buildings and lots of shopping (Which is also part of my bucket list, shopping in New York). This place looks so beautiful, a nice place to relax after shopping I guess.
...
2. Grand canyon:
I want to do a Skywalk where you walk on a glass floor and look over the canyon. I've also always wanted to try white water rafting.
...


3. Las Vegas:
I would love to go into the casinos in Las Vegas. I'm not much of a gambler and I'm a bit of a sore loser but the atmosphere of these casinos look incredible.
...


4. Overseas highway, Florida keys: I love long car journeys and what better than to drive over the sea with the most scenic views!
...


5. Yellowstone national park: This park is truly beautiful, its on top of a volcano!
6. Ellisons Cave: I've always wanted to go caving, I've done lots of research on which caves will be best to go to and Ellisons cave has to be the winner. Just look at the picture.
------
EUROPE
7. Northern lights: Everyone has to see the Northern lights! Norway is the best place to see them although you can only see them at certain times of the year.
...


8. Ice hotel, Sweden: This ice hotel is amazing, who wouldn't want to experience basically living in an igloo.
...


9. Lake baikal, russia: This is the worlds deepest freshwater lake and is surrounded by mountains perfect for hiking.
...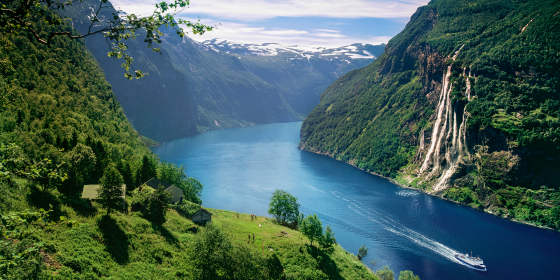 Source
10. Norwegian
Fjords: Having a walk and a picnic in the Fjords would be perfect, my favourites are
Naeroyfjord and G
eirangerfjord.
...
11. Museum of broken relationships:
People leave items that remind them of their ex partners and leave a little story with it, cool huh?
...
12. Auschrwatz concentration camp: This one is
the saddest ones on my bucket list. I'm interested in the history behind all this and it will be interesting to see the camp for myself.
......
AUSTRALIA
13. Sydney harbour bridge: Sydney in general would be amazing to visit, the views from the bridge will be incredible. I'll definitely go to Sydney opera house whilst i'm here.
...
14. Worlds largest swing: This swing in new zealand looks so good, you get the best views whilst swinging. I'll probably get up there and panic but I know once I step over the edge it'll be an unforgettable experience.
...
15. Hobbiton, new Zealand: So I love the Lord of the rings, I didn't think it would be a film that I would like but a couple years ago I decided to watch it and ended up watching them all at once. You can actually visit where it was filmed in New zealand! This is definitely one for the bucket list
...
16. Coral reef Scuba:
I've always wanted to scuba dive and the coral reef looks like a perfect place to do this with crystal clear waters and lots of sealife.
......


ASIA
18. Maldives: The Maldives is a truly beautiful island, I would love to go there for my honeymoon! You can go in your pool and you're basically in the sea.
...
19. ha long bay, viernam
...
20. Hot springs pamukkale, Turkey: Its all naturally formed and looks like a lovely place to sit back and relax.
...
21. Dead sea
...
22. Mount everest: I would love to be able to say i've climbed a mountain.
...
23. Great wall of China: I've recently been watching a tv series called gap year and it has inspired me to visit china. The great wall of china is an iconic destination within the country so it's worth visiting.
...
24. Full moon party Koh Phanghan:
Again I saw this in 'gap year' and it looks amazing.
.......
AFRICA
25. Victoria falls, Zimbabwe: The picture says it all..
26. kruger national park, south africa: I've always wanted to go on a safari and i've looked up a few different ones around the world and this one looks the best with lots of different species of animals.
......
SOUTH AMERICA
27. Amazon rainforest: I love animals and nature, The rainforest has hundreds of different species of plants, animals, and insects so i'll definitely be in my element.
...
28. Iguazu falls: I love waterfalls, and these look beautiful!
...
Hope you liked this blog post, I've tried keeping it short and simple as its a long list. Has anyone been to any of these places or are they on your bucket list?